About Us
The Deadline team is located in Norfolk, Virginia, and provides full-scale digital printing for brochures, magazines, posters, catalogs, holiday cards and much more.
Deadline opened in 1984 as a typesetting business and has evolved into a digital printing company offering cutting-edge color printing services on virtually any flat surface.
Deadline's state-of-the-art digital presses coupled with the team's design and printing expertise make the business a trusted print authority in Hampton Roads. However, Deadline's quality, speed, strong customer loyalty and passionate attitude are what bring customers back for their next project.
The Deadline team works to create the very best printed product possible for each project, no matter how small an order. We understand the importance of your task, whether it's a quarterly magazine for your business or a local neighborhood newsletter. Besides printing, the Deadline team offers guidance and solutions for your project needs, from deciding on the right colors to presenting your content.
"Deadline is still here because we're still relevant," says owner Cheryl. "We offer solutions, and we pay attention to every job and every deadline."
Deadline Digital Printing will ensure your next project is high quality and looks perfect. Call today to begin your next successful project.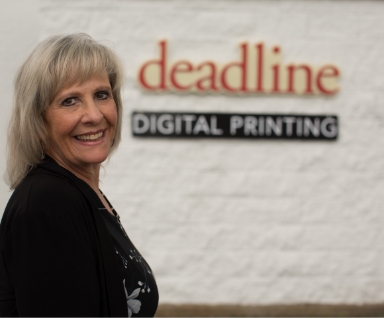 Stop in to see us.
We are located in the heart of Hampton Roads in Norfolk, VA. We are just minutes from Downtown.

Deadline Digital Printing

757-625-5883

1048 W. 27th Street, Suite B, Norfolk, VA 23517

printingbydeadline.com
Tell us about your project.